Six Bathroom Cleaning Tips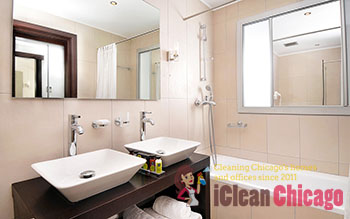 Nobody likes to the clean bathroom but it is a job that must be taken care of because using a dirty, tarnished and stained restroom isn't the better option. Here are several tips that will permit you to sanitize your bathroom more quickly and efficiently.
Tip 1: Declutter the room
Even at this moment you can be certain that you have items in your bathroom which don't belong there. Commence the cleaning routine by getting a basket and decluttering the bathroom. This will not only reduce the amount of work that awaits you but it will also force you to properly arrange your belongings throughout your household.
Tip 2: Pour disinfectant into the toilet bowl
This will ease and speed up the cleaning of your toilet. You can either use bleach or create your own eco-friendly disinfectant by dropping a tablespoon of baking powder into a mixture of water and vinegar (25/75 ratio). You can also put your toilet brush into the bowl to sanitize it. Allow the disinfectant to sit for about 10 minutes before you flush the water. Make sure that you open the bathroom door and run your ventilation in order to chase away the odor from the detergent.
Tip 3: Use scrub powder to remove soap scum
Apply the power around the base of your faucets and bottom of your sink and bathtub.  Once again allow the detergent to sit for 10 to 15 minutes and then rinse with water. If the soap scum isn't completely removed, repeat the procedure and thing time use a brush to scrub the problematic areas. Work gently as your bathroom appliances may have gentle surfaces. You can also use scrub powder to get rid of lime build-ups.
Leave the window or door open after you are done showering and using the bathroom. This will prevent the accumulation of mold on the room's ceiling and walls. Alternatively if you notice mildew and mold build-ups use a commercial remover to clear them. Spray the detergent over the problematic areas and allow it sit for about five minute before you starting wiping with a clean rage and rinsing with water. Always work with rubber gloves because mildew and mold can cause skin rashes.
Tip 5: Hire professional cleaners
Every now and then contact professional sanitation contractors and have them clean your bathroom. By doing so you will make sure that your restroom is periodically sanitized meticulously and that all harmful particles and resilient build-ups have been completely removed. This will ease your bathroom cleaning routine as the room will never be heavily tarnished and stained. Most sanitation experts claim that a restroom should be cleaned by professionals at least once every three to six months.
Tip 6: Wipe clean all surfaces after your morning shower
This will help you maintain the surfaces clean which will ultimately affect your weekend bathroom sanitation routine as you will have once thing less to do. You can also mop the floor twice a week after your morning shower.