Maid Services in Chicago
If you are looking for a top notch maid service in Chicago, we are iClean Chicago are ready to provide you with such. Our well tailored, high quality maid services in Chicago are known for being reliable and satisfactory, and they are very well balanced in terms of budget. There is no reason why you should not make use of them.
Maid services in Chicago for a wide range of clients
It is a popular misconception that only the richest among us can afford to hire a maid. Well, this is no longer the case. In some cases, having a maid service available at your home is simply indispensable, especially when you consider the hectic life and busy schedules that the majority of the residents of Chicago are currently following.
Assistance with all aspect of keeping  a household
Our Chicago area maid service will provide you with the peace of mind that there is someone to take care of all the tedious household chores, while you can concentrate on other important matters of your life. We are going to handle everything around the house for you, including:
Cooking
Ironing
Washing
Cleaning
Grocery shopping
Walking your dog
Take care of the children
Trained staff and flexibility of service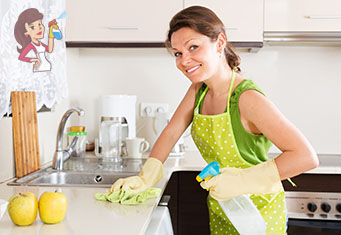 One major benefit of the maid services in Chicago, that are being provided by our trained and fully qualified experts, is the fact that we operate on very competitive prices that are not going to hurt your budget. Additionally, not only can you count on our maid services for regular domestic maintenance, but also as help with preparing for a special event – when you are going to have house guests, or host a party and you would appreciate a helping hand with some of the more delicate tasks. Why do things the hard way, when there is a stress-free alternative waiting for you around the corner. We are known for the quality of the cleaning services we provide and the fact that all our clients are fully satisfied by what they get from us for the value of their money. We are certain you are going to be happy too.
Make a reservation today
Do not hesitate to contact iClean Chicago for some of the best and most efficient maid services in Chicago as of today. We are going to take good care of you and your home. The only thing that is required from you is pick up the phone and make the call. It is exactly as easy as it sous.
Chicago is among the US leading cities. No matter whether we are talking about transport, economics, culture or education, Chicago is home to top institutions that that shaped the way our country functions. The University of Chicago, The O'Hare International Airport and the headquarters of dozens of huge international companies shape the face of modern day Chicago as the city of the future – there is no room at all for doubt about that.