Housekeeping in Chicago
Our housekeeping options in Chicago are definitely the thing you are looking for.
A solution to all your potential problems
Have you ever felt overwhelmed at the office – so much that the last thing you want to do once you get back home is get down to the chores? We have what you need – professional housekeeping in Chicago considered in accordance to the highest quality standards. One that is going to get you rid of all the pressure and exhaustion while still providing you with a  home that is clean, sanitized and well supplied.
Excellent home maintenance in Chicago
Certified housekeeping specialists in Chicago ready to work for you
Our trained professional housekeepers are going to make sure that every inch of your property is cleaned and de-cluttered, but their field of expertise is not limited simply to cleaning. They are going to regularly take out the trash, make sure that everything is put in the right order and even do the ironing for you, or go through the bills and ensure they are paid. Housekeeping in Chicago when provided by us is a full service that is aimed at making your home a comfortable space that you enjoy spending time at, while at the same time sparing you from the strain of making it such on your own.
Why iClean Chicago?
The benefits of using housekeeping in Chicago precisely from us are many. Let's have a look at some of the most important among them:
Guaranteed results and quality of the service received
Competitive prices that make housekeepers accessible to a wider audience
Flexible schedule entirely tailored according to your needs and preferences
Full coverage of all steps of the housekeeping job
Around the clock customer support in case you need assistance of any sort
Make a reservation today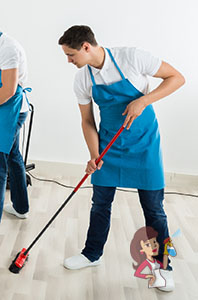 Contact us now without hesitation if you want more information about our wide range of cleaning options in Chicago or in case you would like to make a booking. Our customer support is ready to answer all your questions and be at your assistance at any way possible.
Chicago is definitely among the best cities in the US to live in. Home to one of the most diverse cultures among American mega-cities, the current population of the proper-Chicago area reaches nearly 2 720 000 people. Chicago is the third largest economy in the US with $630.3 billion gross metropolitan product for last year. The city is a very famous tourist attraction as well.