Flat Cleaning
Most people in Chicago, IL live in flats and even though we are not talking about spacious properties they also require constant cleaning. Luckily you do not need to do it yourself and you can get a hold of us instead. iClean Chicago is a company which is prepared to come to your home any time of the day and sanitize your flat according to all modern standards. No type of floor will give us a challenge. We have:
Hard floor cleaning
Wooden floor cleaning
Carpet cleaning
Training and preparation are crucial when it comes to Chicago flat cleaning
We take special time to train our cleaners and to polish their skills in many aspects. They are not only outstanding workers but behave awesomely with customers too. You will be happy to see how cordial and open they are. Thanks to this you might receive a piece of advice or two by them making the whole cleaning process way easier. Our flat cleaning service in Chicago is a flexible one too. You can instruct our crew to focus on certain things and get them sparkling clean. Giving priority to some objects or pieces of furniture will let you rest assured that whatever you want tidy, will be tidy in the end.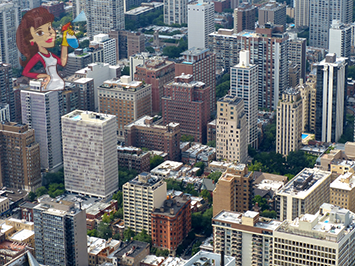 iClean Chicago is a fully licensed company and we are allowed to work in any sort of building. If your flat is on the top floor – don't worry we will carry everything needed and might even do professional Chicago window washing for you. This aspect should not be overlooked because many tall buildings have their windows dirty due to lack of will. Our tenacious and devoted cleaners, however, are perfectly well prepared to clean your windows for you.
See our latest offers and find the best one for you
You will not find better prices than ours in Illinois at all. We have special package deals which allow you to save money if you hire us for more than one Chicago cleaning projects. Returning customers also get special deals and discounts. Call us today and see what we can offer you. Get a free quote and a consult again absolutely free of charge.
If you are a sports fan Chicago is the city for you. It is a large community with a population of about 10 million. You can go to stadiums and arenas to enjoy a great game. The United Center is the home of the legendary Chicago Bulls. The Chicago Blackhawks are currently a dominant force in the NHL.