House Cleaning in Calumet Heights, 60617, 60619
Calumet Heights is one of the finest residential areas in Chicago today, and our comprehensive and cost-efficient domestic sanitation services make life here even more pleasant and comfortable. Get in touch with us today and let our trained and fully certified specialists take care of your home cleaning needs in Calumet Heights – that is the best thing that one can do.
Reliable cost efficient home cleaning services in Calumet Heights
Cleaning one's home is among the hardest chores that we can go through, and it is only good news that there is someone that is ready to take care of those strenuous tasks for you. On one hand, you will be spared from all the hassle and strain, on the other you are going to save quite a bit of time that you can invest in your work, hobbies or spending time with the family.
Wide range of sanitation solutions
We are licensed and fully insured to handle domestic sanitation in Calumet Heights on a flexible schedule, using the most suitable tools and cleaning products that are suitable for:
Full property cleaning in Calumet Heights
Carpet sanitation and stain removal
Floor cleaning
Window cleaning
Apartment cleaning and sanitation in Calumet Heights
Make a reservation today and leave the rest to us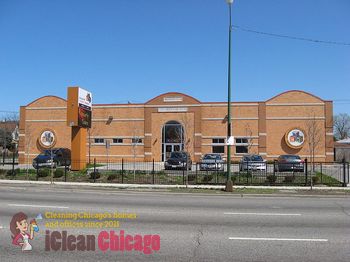 If you are looking for a cleaning service that is safe, a hundred percent eco-friendly and would not strain your budget even one bit, then you should simply get in touch with the polite and knowledgeable specialists on our team and we are going to arrange for everything to happen for you in as hassle-free manner as possible. You can reach our helpful and polite customer support around the clock both over the phone and via email. Free quotes are made available to anyone interested in our cleaning services in Calumet Heights and we will happily tailor one for you too, so that you can properly consider your finances in advance.
Part of the so called South Side of the City of Chicago, Calumet Heights is one of the 77 community areas of Chicago. The 87th Street on the north, South Chicago Avenue on the east, and railroad lines along 95th street on the west and south form the boundaries of the area. Calumet Heights was most undeveloped in the beginning of the history of the city, but today it forms one of the most comfortable residential areas in Chicago.